EUREKA!
An Ace Attorney Investigations Zine/Anthology
"Eureka!" is a fan-created anthology project that will focus on the characters and events from the single-player adventure games Ace Attorney Investigations: Miles Edgeworth and Ace Attorney Investigations 2. It will feature illustration, writing, and physical merchandise.
---
The "Eureka!" fanproject is unofficial and in no way affiliated with Takeshi Yamazaki or Capcom.
This document has been updated on January 7th, 2022.
About "Eureka!"
This anthology will showcase the characters and events from the Ace Attorney Investigations series. It will focus on Miles Edgeworth and his investigative partners Kay Faraday and Detective Dick Gumshoe as they work through cases in search of the truth.
♕ - The project can include cameos of main series characters, however, they should be miniscule in comparison to the cast of the Investigations games.♕ - We are working for-profit, meaning proceeds outside of production will be distributed amidst the contributors. All contributors will receive a free physical copy of the zine and any related merchandise, along with their respective payouts.♕ - At the moment, we are looking for around 35 artists and 6-8 writers, with some of these contributors already being guests. These numbers are subject to change depending on the results from the interest check. We are aware that the Investigations games are not as popular as the main series, so definitely take this with a grain of salt.♕ - There will be spoilers for both AAI1 and AAI2 in this anthology. If you have not played either of these games and are planning to in the near future, please tread with caution if you plan to be a contributor or a purchaser of this anthology.♕ - This project will have content that is canon-typical (depictions of blood, discussion of violence/murder/etc.) but overall SAFE FOR WORK/ALL AGES, meaning absolutely NO EXPLICIT/SEXUAL CONTENT is allowed.♕ - This project wants to focus on the interpersonal connections between the characters and the events of the games. This is not a ship-centric or ship-focused zine.
MODERATORS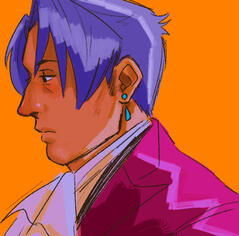 HEAD+WRITING MOD/PROJECT MANAGER/SHIPPING+FULFILLMENT+ACCOUNTING
jett chanthavong | twt: bludhundr | ig: bludhundr | tumblr: reinmeka
Hard-headed and stern, educating the youth of tomorrow by making them listen to "Pursuit" while playing Kahoot. Bachelor's Degree in New Media and Animation; Master's Degree in Studio Art. Head moderator for "A New Trial is in Session!" AA4 Zine. Has been a contributor for various AA zines/projects. Has printed and published many smaller, independent wrestling zines. Currently praying for AJ:AA2.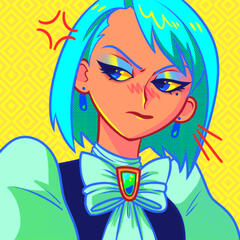 ART MODERATOR/TANGENT OBSERVATION SPECIALIST
zoe jay | twt: zoe jay w | ig: zoejayw | tumblr: zoejayw
Hobbyist artist, full time Ace Attorney fan. Enemy of compositional tangents everywhere. Art mod for the "A New Trial Is In Session" AA4 Zine. Head mod of various other fanprojects and exchanges in the past. Hoping to make your day better as we all come together and celebrate making Edgeworth's day worse.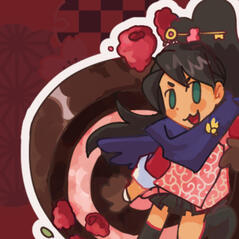 GRAPHIC DESIGNER/NEEDLESS PROCEDURES ASSOCIATE
ajihaew | twt: ajihaew | tumblr: ajihaew
Guy who just wandered in here and refuses to leave. Illustration student and visual development artist. Mod for "Turnabout Tarot", "Rally Spectrum", "Fódlan Cuizine", "We Got Your Back", and participant of many, many more. Planning a heist into Capcom HQ to break Sebastian and Kay out of the basement.
SCHEDULE
---
*All scheduling dates are subject to change. These are all approximate to compensate for the pandemic and COVID. We will communicate these changes publicly on our social media accounts and through the project Discord.
| Event | Date | Status |
| --- | --- | --- |
| INTEREST CHECK | JAN 17th - FEB 17th | ✓ |
| CONTRIBUTOR APPLICATIONS | FEB 20th - MAR 20th | ✓ |
| APPLICATION REVIEW | MAR 21th - MAR 26th | ✓ |
| APPLICATION RESULTS/EMAILS | MARCH 27th | ✓ |
| FIRST CHECK-IN | APRIL 25th | ✓ |
| SECOND CHECK-IN | JUNE 4th | IN PROGRESS |
| THIRD CHECK-IN | JULY 3rd | - |
| FINAL CHECK-IN/FORMATTING | SUMMER 2022 (TENTATIVE) | - |
| PREORDER PERIOD | SUMMER 2022 (TENTATIVE) | - |
| ZINE RELEASE | FALL 2022 (TENTATIVE) | - |
FREQUENTLY ASKED QUESTIONS
---
Will there be guest artists and writers?
Yes, and we have all of them already. Contacted and ready to go.
Does the writing mod have any writing experience?
Jett does not have any readily available recent fanfiction for contributors to review prior to applying to the zine. They are, however, a college graduate with much experience in writing and editing (research, scientific, creative, etc.). Jett knows the Investigations characters well enough to point out any egregious mischaracterizations.here's one nrmt fic. and a chapter from one klapollo fic.
Is there a minimum age requirement for contributors?
Since this project will be SFW we won't have a minimum age requirement, however, we will be asking for a shipping address to send physical copies/merchandise to, as well as a method of sending payment. Please keep that in mind.
What if I get accepted and I need to drop out?
If the case arises where you need to drop out of the project for whatever reason, please let a moderator know immediately. We do not bite. We will not be mad or angry about it. Whatever reasons whether you choose to share them or not are your own. We just want you to let us know so that we can adjust the project accordingly.
There are tons of zines happening right now. Why add another?
We understand the frustration that some schedules may, unfortunately, overlap. Projects will keep popping up, however, so we have done our best to try and avoid that. Our creation period will span late Spring and through the Summer hoping to avoid other project deadlines and holiday seasons.
I have a question that is not listed here. Where do I ask it?
Any additional questions can be sent to our email [email protected], @ us on Twitter, send a DM on Instagram, or send an ask to our Tumblr.
GENERAL INFO FOR CONTRIBUTORS:
♕ - Please be sure to read all the provided information.♕ - Please take your time reviewing your application prior to submission.♕ - Please be sure to make your portfolios accessible to us for reviewing.♕ - All applicants must provide some form of public social media in their application for reviewing. This requirement is so that we are able to make sure that we are not working with creators who do things like draw/sell NFTs or create pedophilic or incestuous content.♕ - All contributors are required to have a Discord account and an email address that they regularly check. The project Discord server will serve as the primary way to make announcements, give feedback, and interact with our contributors.♕ - We reserve the right to deny applications and their applicants for any reason.
---
ARTIST CONTRIBUTORS
PLEASE PROVIDE AN ART PORTFOLIO (ARTSTATION, ART MOMENT, INSTAGRAM PAGE, ETC.) THAT HAS AT LEAST 3+ COMPLETE PIECES THAT DEMONSTRATE THE FULL RANGE OF YOUR ARTISTIC SKILL.
-
We are judging applicants based on their use of composition and color. We also would like to see backgrounds (even monochromatic ones count). If you are applying to be a merch artist, please include an example of a merch design. Please do not submit examples that are NSFW (canon-typical blood is ok). Examples of work do not have to be Ace Attorney-related (though it is much preferred) so long as they fulfill the requirements that we are searching for.Cover Artist
The cover artist will be responsible for the illustration that will be presented on the outside of the published zine. The cover art must promote the theme of the zine in a way that is professional and aesthetically pleasing. Artwork must be in 300 DPI and in CMYK.Page/Spread Illustrator
Illustrators will be responsible for contributing works that correspond to the overall theme of the zine. Pieces must be 6 x 9 inches (15.24 x 22.86 cm) with a 0.125 inch (0.3175cm) bleed, 300 DPI, and in CMYK. (If you are working traditionally, scanned submissions must be high quality and adhere to the parameters listed).Merch Artist
Merch artists will be responsible for works that will be made into manufactured goods to be sold alongside the physical copy of the zine. Artwork must be in 300 DPI and in CMYK. (Sizes will vary depending on what merch will be offered).
WRITER CONTRIBUTORS
PLEASE PROVIDE WRITING SAMPLES IN THE FORM OF A GOOGLE DOC LINK ATTACHMENT WITH AT LEAST 2 PIECES THAT DEMONSTRATE THE FULL RANGE OF YOUR WRITING ABILITY.We are judging applicants based on their use of storytelling, characterization, and coherence. Please send works that have been edited for grammar and spelling. Excerpts from larger, multi-chaptered works are fine. Please do not submit examples that are NSFW (descriptions of canon-typical blood/violence is ok). We ask that at least one of the examples of work provided be Ace Attorney-related. Any other work can be submitted as long as the work fulfills the requirements that we are searching for.
-
Writers for the zine will be responsible for works that focus on the characters and events from Ace Attorney Investigations 1 and 2. Submissions should have a defined start and end with a maximum word count of 3k, as well as have been edited for grammar and spelling. Collaborations with illustrators, if desired, shall be sought independently. Moderators should be notified of the arrangement.